Trump unveils new Air Force One design plans
US President Donald Trump has revealed the renderings of the redesign of the presidential aircraft fleet, known as Air Force One.
The new design, which Mr Trump showed in an ABC interview, trades in the iconic baby blue and white exterior for more patriotic colours.
"There's your new Air Force One," he said, holding up the drawings of the red, white and blue planes.
The revamp would be the first since President John F Kennedy was in office.
Critics note a similarity between Mr Trump's private jet and the new aircraft design, which Mr Trump first announced last year.
The presidential fleet includes two identical jets, and whichever one the president is aboard is given the signal name Air Force One.
The current Boeing 747s have been in use for nearly three decades. The 4,000 sq/ft (1,220 sq/m) aircraft features three floors, armoured windows, medical offices and a kitchen that can feed 100 people at a time.
The two planes will also be Boeing 747s, which Mr Trump said he negotiated for a price tag of $3.9bn (£3.1bn). They are due to be delivered in 2024 and may not be put into rotation until after Mr Trump leaves office.
Mr Trump claims the new jets are much bigger and have "a much bigger wingspan" than the current models.
"I'm doing that for other presidents, not for me," he told ABC News host George Stephanopoulos.
The first Air Force One Jet, which was used by President Dwight Eisenhower starting in 1959, had a red and gold design.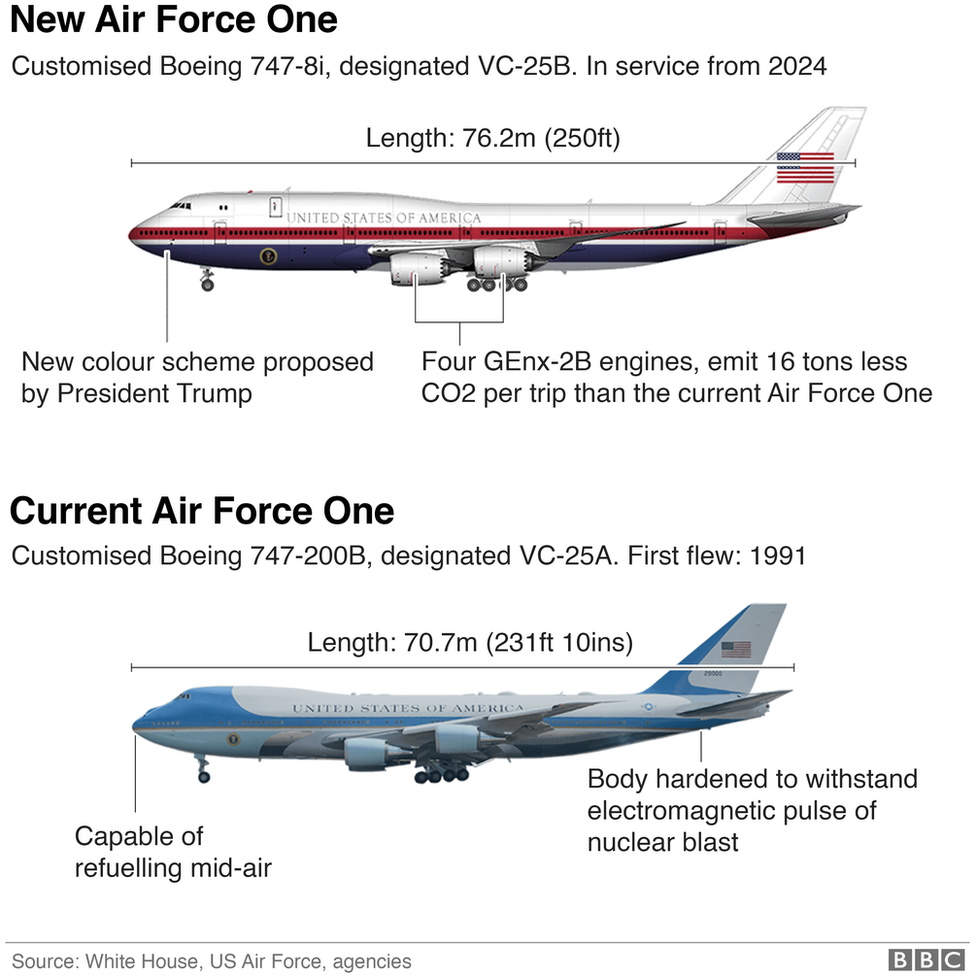 https://www.bbc.com/...canada-48625986